Aug 26
October 3-8: Scientific Communication in Astronomy School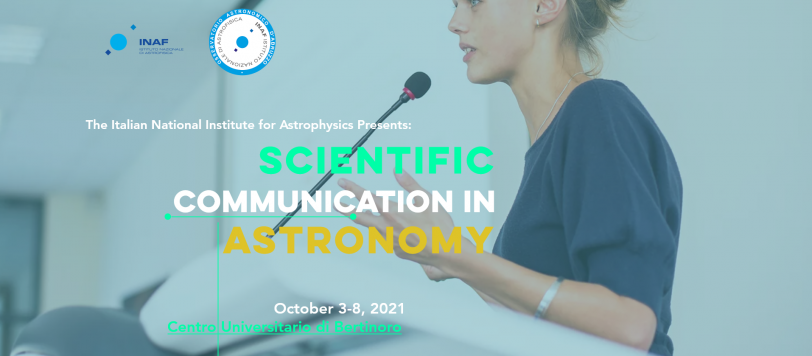 The school (postponed for one year due to the pandemic situation) will be held from 3 to 8 October 2021 and it will be hosted by Centro Universitario di Bertinoro, Italy.
Due to the particularity of the school it will be exclusively in-person. However, most likely, recordings of the lessons will be provided.
The purpose of the school is to help PhD students and young postdocs to learn how to effectively present their scientific results, both while preparing publications and when giving talks at conferences or seminars in other Institutes. In addition to paper writing, we will also have sessions dedicated to the preparation of observational proposals: we will address all aspects from proposal preparation, to submission and evaluation for both ground based and space based facilities. Finally, since job applications and research grants applications also require good communication skills, we will have sessions devoted to writing CVs, research statements and presentation letters.
It will be held in English, organized with lectures in the morning and practical hands-on sessions in small groups in the afternoon.
Topics of the workshop:
Writing an effective scientific paper;
Giving talks and seminars;
Preparing a successful observational proposal;
Preparing a successful job application (research statement, cv, letters);
Preparing a successful grant application.
Participants will have the chance to shortly present their works during the sessions dedicated to "public speaking".
Registration is STILL OPEN. NEW DEADLINE: September, 13rd, 2021
In case of too many registrations priority will be given to Phd students in the last year and first years post-docs.
Due to government regulations it will be possible to attend the school only if in possession of the Green Pass. You will be provided with further information on this directly by the Centro Universitario di Bertinoro.
Details on conference fee and accommodation costs will be available soon on the website together with a second announcement.
Lecturers:
-Alice Shapley (UCLA)
-Thierry Fortville (Astronomy & Astrophysics editor in chief)
-Nando Patat (Head of the Observing Programmes Office, ES-O)
-Marica Branchesi (GSSI)
-Raffaella Schneider (La Sapienza University)
-Alessandro Papitto (INAF – OAR)
-Eleonora Napolitano (GARR)
SOC & LOC: Laura Pentericci, Silvia Piranomonte, Angela Bongiorno, Enzo Brocato, Piergiorgio Casella, Bianca Garilli, Adriana Gargiulo, Andrea Melandri, Paola Santini
REGISTRATION and more information at the following link: https://andymelandri.wixsite.com/s-c-i-a