Apr 20
Active volcanism on Venus: scientific implications and future perspectives through the Project "AVENGERS"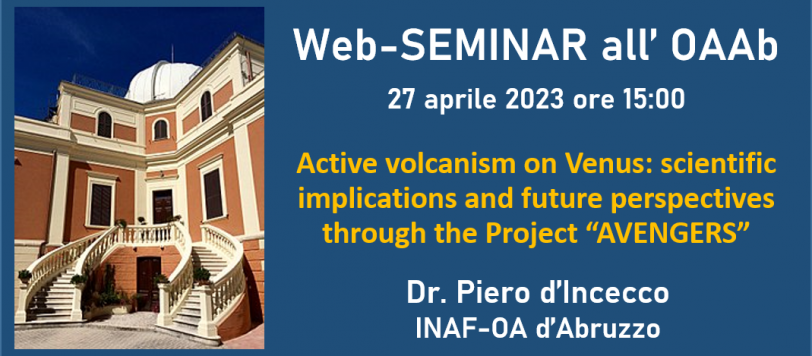 Giovedì 27 aprile alle ore 15:00, il Dr. Piero D'Incecco dell'INAF-Osservatorio Astronomico d'Abruzzo, terrà il web-seminar dal titolo "Active volcanism on Venus: scientific implications and future perspectives through the Project "Analogs for VENus's GEologically Recent Surfaces (AVENGERS)".
Abstract
The several recently selected missions to Venus will open a new era in the exploration of the Earth's twin planet. One of the key questions that the future missions need to address is whether Venus is volcanically active today. Indeed, the identification of active volcanism on Venus would help us to better understand volcanic and atmospheric processes on Earth.
The surface of Venus is dotted with volcanic structures. Some of these are comparable to those we can observe on Earth, while others are unique to Venus. The so-called "young topographic rises" regions are probably among the most promising candidate areas for the identification of active volcanism on Venus. These regions are characterized by a swollen topography as they are thought to be formed by great quantities of underlying magma, extending like a plume under the surface of the planet.
To better identify and study ongoing volcanic processes on Venus, the Project "Analogs or VENus's GEologically Recent Surfaces" (AVENGERS) aims to build a comprehensive database of terrestrial active volcanoes, for a direct comparison with areas of potentially active volcanism on Venus. We will make a survey through the most recent scientific findings, indicating possibly ongoing volcanic activity over one of these areas. Finally, we will also show how active volcanoes on Earth can be used as suitable analogs for identifying active volcanism on Venus.

Scarica la presentazione in pdf